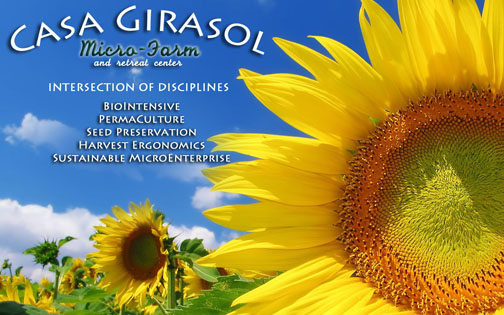 WHERE WE ARE
Casa Girasol B&B, Retreat Center and Organic Farm is located in the center of the Sacred Valley of the Incas. We are at 2900 metres/ 9600 ft. elevation in the Andes mountains. We are 1 hour from Cusco, and 1 hour from Ollantayatambo where you catch the 2 hour train to Macchu Picchu. We are surrounded by ancient Incan waterways and terraced farming which is actively used today and has been in continual use since pre-Incan times. Incan and pre-Incan ruins are scattered throughout the valley. This region is the original source of tomatoes, potatoes and many other varieties we take for granted (there are 4500 varieties of WILD potatoes in this area). In fact, this area was the farming and food storage center for the entire Incan empire (Bolivia to Ecuador). The soil, water and sun in this region produce continual crops all year.
WHO WE ARE
The people of Casa Girasol are dedicated farmers, gardeners, chefs, staff and volunteers who all share a passion for organic, non-GMO food, alternative farming disciplines and the beauty and magic of the Sacred Valley. Michael Morris, founder of Casa Girasol is from the United States and has been in Peru since early 2010. Owner of an heirloom seed company in the states, Michael has been an avid organic gardener and collector of seeds for many decades.
Casa Girasol staff and volunteers share a passion for organic farming, community life-style, personal exploration and sharing of knowledge. Our mission is to explore alternative farming while exploring ourselves and sharing this knowledge with others. We study many things, including yoga, meditation, astrology, NLP, indigenous plant medicines, natural healing as well as alternative farming practices. We have a love of the Sacred Valley and it's magical, some say highly spiritual atmosphere.
We are currently looking for long-term farm volunteers (2 or more months) who are considering relocating to the Sacred Valley. We prefer experienced, mature (24 or over), responsible and spiritually focused individuals. We promote a community atmosphere. We are also seeking farm "managers" who will stay 6 months to a year or more. Please contact at info@casa-girasol.com
Currently we are looking for volunteers with the following skills, construction & remodeling, farming & gardening, and culinary experience (bread baking experience is a plus)